of Fauxgirls!
En Drag
Fauxgirls! began as the descendent of its parent revue, En Drag, a trend-setting show that changed the style of drag shows in San Francisco, and had the ambition and chutzpah to challenge the world- famous Finocchio's, way back in 1996, at Kimo's: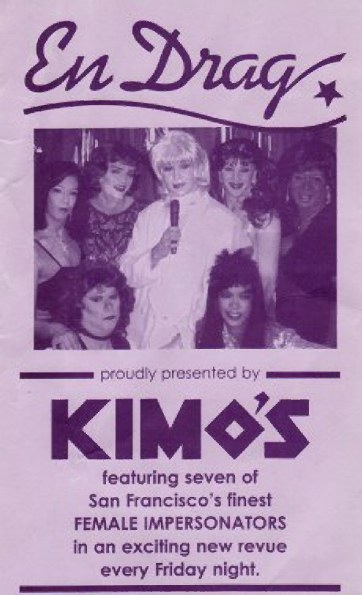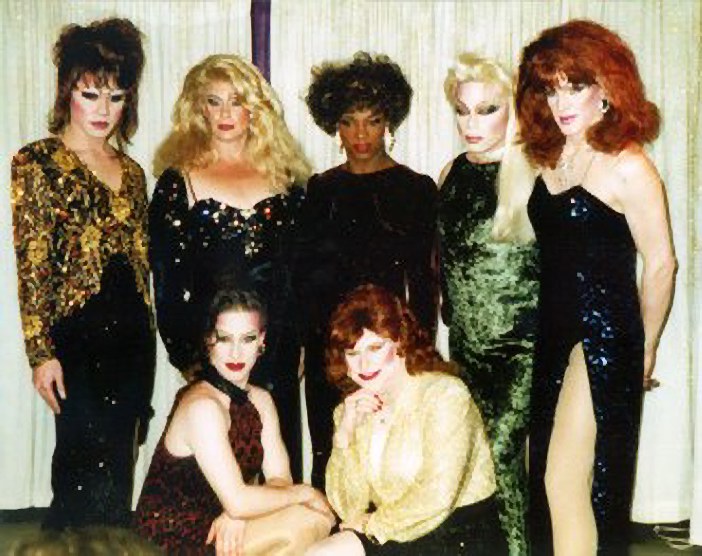 The Original Cast (1996) The Final Cast (1998)
Back (L-R): Vanessa, Harlow, Wanda, Alexandria, Montana
Front (L-R): Sexilya, Victoria Secret
Fauxgirls!
After En Drag finally closed, following a run of more than three years, it later morphed into Fauxgirls! in 2001.
Originally, we started at Marlena's with 6 performers:
Five of the Original Six Fauxgirls at Marlena's (June 2001):
Donna Rae, Bliss, Anjelica Devarox, Victoria Secret, Reality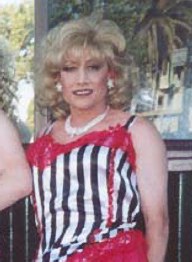 The Sixth Original Fauxgirl: Mona Lott
The only photo of all six Original Fauxgirls together, back in 2001
Eventually, the group began to grow, and within a year we had added our first two non-original Fauxgirls,
Mini Minerva and Davida Ashton:
The first evolution of Fauxgirls!, about 2003:
(L-R) Anjelica Devarox, Bliss, Victoria Secret, Donna Rae, Mini Minerva,
Barbie LaChoy (guest star) and Davida Ashton
In the succeeding years, many other fabulous performers joined Fauxgirls! as the group's roster continued to evolve,
and we moved from Marlena's to Deco Lounge and finally back to Kimo's:
Tiger Lily Shelly Wilde Pinky Bubbles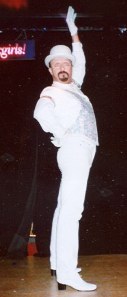 Bobby Ashton Daffney D'Luxe Maria Garza
(our "boy toy")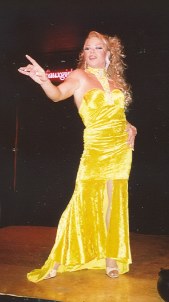 Alexandria Chanel
Fauxgirls! has run successfully since 2001, making it one of the longest-running drag shows in San Francisco history. Tiger Lily, Davida and Bobby remained with us until we closed at Kimo's in November 2011. The All-New Fauxgirls! reopened at Infusion Lounge in March 2012, with Victoria, Alexandria, Maria, Mini, Chanel and Daffney still in the cast. Daffney left us in late 2012, and Maria Garza was with us until July 2014. Lulu Ramirez was added to the cast shortly after that.
The New Fauxgirls at Infusion Lounge
The Fauxgirls finally closed at Kimo's in November 2011. In March 2012, the show was completely reinvented and a new Fauxgirls show opened at Infusion Lounge in San Francisco. There, the Fauxgirls presented a lavish dinner show until 2016, when Infusion Lounge ended their dinner service. After a short gap, the Fauxgirls re-opened at Encore Karaoke Lounge, where the show continues today, although it is no longer a dinner show.
On the marquee at Infusion Lounge!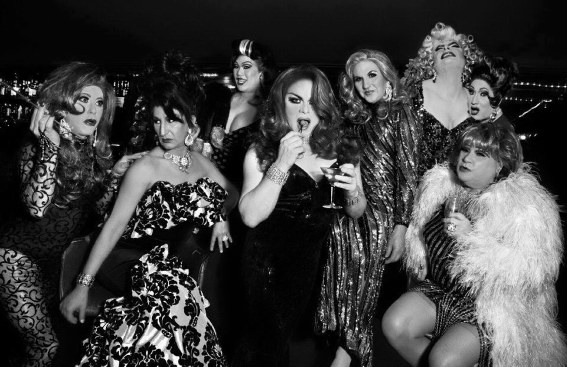 The original cast at Infusion Lounge: from left, Ruby, Maria, Kipper, Alexandria, Chanel, Daffney, Mini, Victoria
Alexandria - - Original show host at Infusion Lounge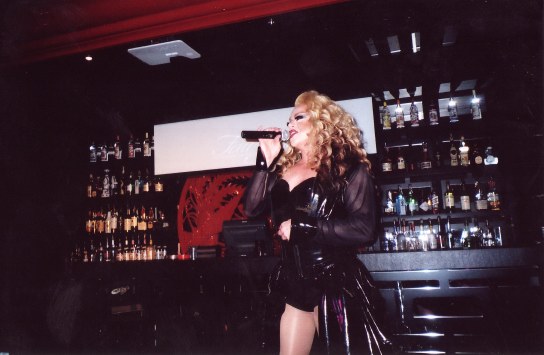 Alexandria, who had been hosting Fauxgirls since 2003, continued as hostess for the New Fauxgirls at Infusion Lounge. She stayed with us for our move to Encore in 2016, and remained as show hostess until she retired from drag and the show at the end of 2017. She now lives in the Sierra foothills with her partner Jim, where, as Alex, she is event coordinator for a large winery. She is happy with her new life and we wish her well. We hope to see her back as a guest star in the near futures.
The Founding Members
of Fauxgirls!
Victoria Secret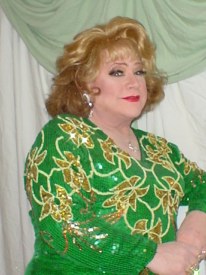 Creator and Producer
After two degrees in drama from UC Berkeley and many years in legitimate theater, which included a role in the musical, La Cage aux Folles, Victoria Secret began her drag career in 1991 as a cocktail waitress and performer at Lily's, the fondly-remembered drag bar that closed in 1994, and is now Martuni's. Victoria then moved to Kimo's, also as cocktail waitress, and in 1996 she created the trendsetting show, En Drag, with a then-new face, Chablis, as show hostess. That show has since morphed into Fauxgirls! and is still going strong!
In late 2005, Victoria retired early from her "day job" as a criminal trial attorney, and is now happily employed as a bartender and show hostess at Divas, the well-known transgender nightclub in San Francisco. She has also appeared as a show hostess at Aunt Charlie's Lounge. In addition to her show work, she is active in the Ducal and Imperial Courts of San Francisco. In the Imperial Court, she was elevated to the permanent title of "Cocktail Princess to the Ruby Empress" by Absolute Empress XXX, Donna Sachet, in 1996.
Angelica Devaroux
Co-Founder
Angelica arrived in San Francisco in 2000, and soon took The City by storm. She was immediately seen onstage at numerous shows and events, and earned titles in both the Ducal and Imperial Courts of San Francisco. After hosting her own show at Aunt Charlie's Lounge, she co-founded Fauxgirls! (now named by Yahoo and Huffington Post as one of the top 10 drag shows in the world)! and took on hosting duties for the first two years of the show. Her limitless creative energy was a driving force in the genesis of Fauxgirls! She was also seen on many stages in California, and even appeared as a guest star at the famous 801 Cabaret in Key West, Florida!
After taking time off from Fauxgirls to run for Empress of San Francisco, do some acting, become a Makeup Artist and delve into dancing, Angelica left the stage to concentrate on her successful career in the restaurant management industry, leading her back to her birth city of Denver, Colorado in 2010, where she now lives, and where she created the Queen City Cabaret drag show, in which she both performed and hosted, under the stage name of "Kitten Caboodle." She continues to be seen onstage in the Denver area.!
Bliss
Original Fauxgirl
Bliss is known and admired for her unique impersonations of rarely-seen vocal legends, such as Billie Holliday. Bliss is very active in the Ducal Court of San Francisco, where she holds several titles, and she is frequently seen helping out at benefit shows. She still lives in San Francisco where she has worked for many years as a hairstylist.
Donna Rae
Original Fauxgirl
Donna Rae went on to be Grand Duchess of San Francisco in 2003 after leaving Fauxgirls! She has since hung up her gowns and tiara and retired from the drag world. She now works at Starbucks and lives a comfortable life as Donald.
Reality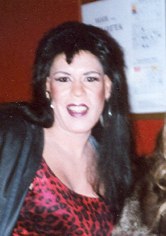 Original Fauxgirl
Reality left the drag scene after leaving Fauxgirls! (shortly after Donna Rae) to concentrate on her other "home away from home," the leather community, where she won several titles in her male persona of Louis.
Mona Lott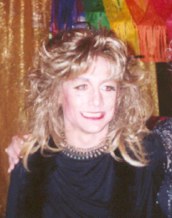 Original Fauxgirl
Mona Lott left San Francisco ater leaving Fauxgirls! Sadly, she passed away in April 2018, in Sacramento, CA. Rest in Peace, Miss Mona!
A Fond Farewell to the Old Fauxgirls!
Anjelica and Mona at Marlena's in 2001